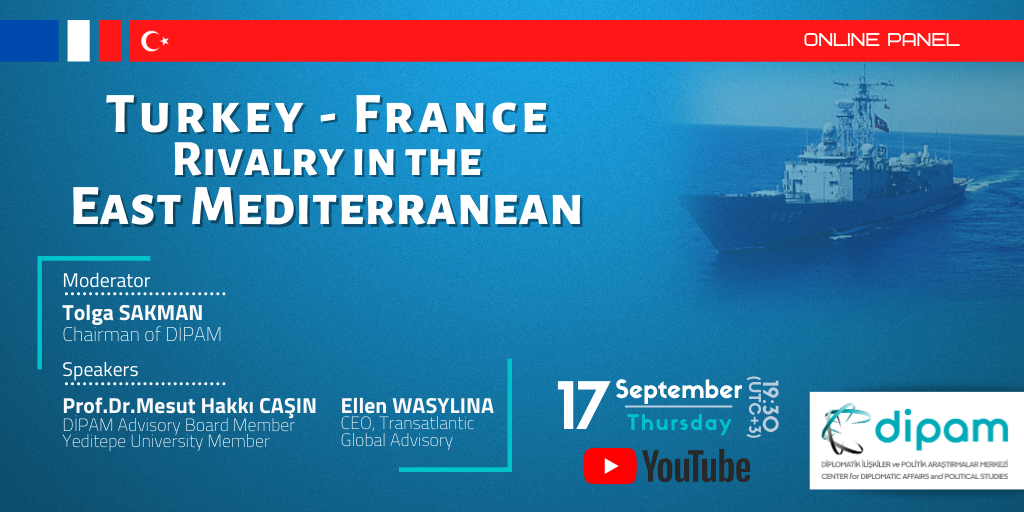 "Turkey-France Rivalry in the East Mediterranean" Online Panel
"Turkey-France Rivalry in the East Mediterranean" online panel to be moderated by Chairman of DİPAM Tolga SAKMAN will be held with the participation of DİPAM Advisory Board Member/Yeditepe University Faculty Member Prof.Dr. Mesut Hakkı CAŞIN and CEO of Transatlantic Global Advisory Ellen WASYLINA as speaker. The event will be broadcast live on the YouTube channel.
It is important to determine the main problems of the relations that have turned into a bilateral competition and have different layers for the region with the active role of France in the tense environment in the Eastern Mediterranean and interpret the solutions. The online panel, including the following topics, will be interactive and the speakers will answer the questions of the audience.
• France's interests in the Eastern Mediterranean
• Turkey's interests in the Eastern Mediterranean
• Turkey-France sticking points in the Eastern Mediterranean: energy, security, law, penetration …
• Turkey-France partnership in NATO
• EU-Turkey-France relations
• The status of France-Greece-Turkey relations
• Turkey-France competition points in Libya
• Turkey-France consultation and cooperation possibility
• Is it possible Turkey-France mutual gain?
Speakers
Ellen WASYLINA

CEO of Transatlantik Global Advisory

Former President of the International Geostrategic Maritime Observatory based in Paris, France (IGMO, 2011-2018), Editor in Chief of our bi-annual flagship publication, the Geostrategic Maritime Review (GMR, 2013-2018), she is also an author, speaker, commentator, adjunct professor and mentor. Expert to EUROPAID in Algeria (2014-2015) she has more than 20 years of business leadership experience in both France, Europe and the United States. She possesses two Masters degrees done in France in French in Defense Strategy and Policies from HEI-CEDS (2005) and another Master degree in Conflict Resolution from the Institut Catholique de Paris (2006), she has written many contributions and articles in the press and in university reserach publications. Her books published in French, are "Ukraine : prémices de guerre froide en Europe?" (2014); and "La défense européenne face aux menaces : l'Europe est-elle prête pour son 11 septembre?"(2015), Harmattan , Paris; and two books in English, "Sustainability governance in a post-globalized world" (2019); "Securing the periphery of Europe post-9/11 : the Black and Mediterranean Sea axis"(2019), both on Apple Books; and finally her latest contribution was to the book "The Geopolitical Realities for Russia : from the Black Sea to the Mediterranean" (2019) under the direction of Nursin Atesoglu Güney; her chapter was "What lies behind the Ukrainian crisis and Moscow's gains and losses?" (2019).

Prof.Dr. Mesut Hakkı CAŞIN

DİPAM Advisory Board Member

Member of the Law Faculty of Yeditepe University in Istanbul
Member of the Turkish Presidential Security and Foreign Policy Board
In addition, he teaches in international law and international relations disciplines at some universities, especially National Defense University.
He continued his education with American Constitutional Law at Texas San Antonio College and completed his (PhD in 1994) on "International Security Strategies and Disarmament" at Istanbul University Faculty of Political Sciences.