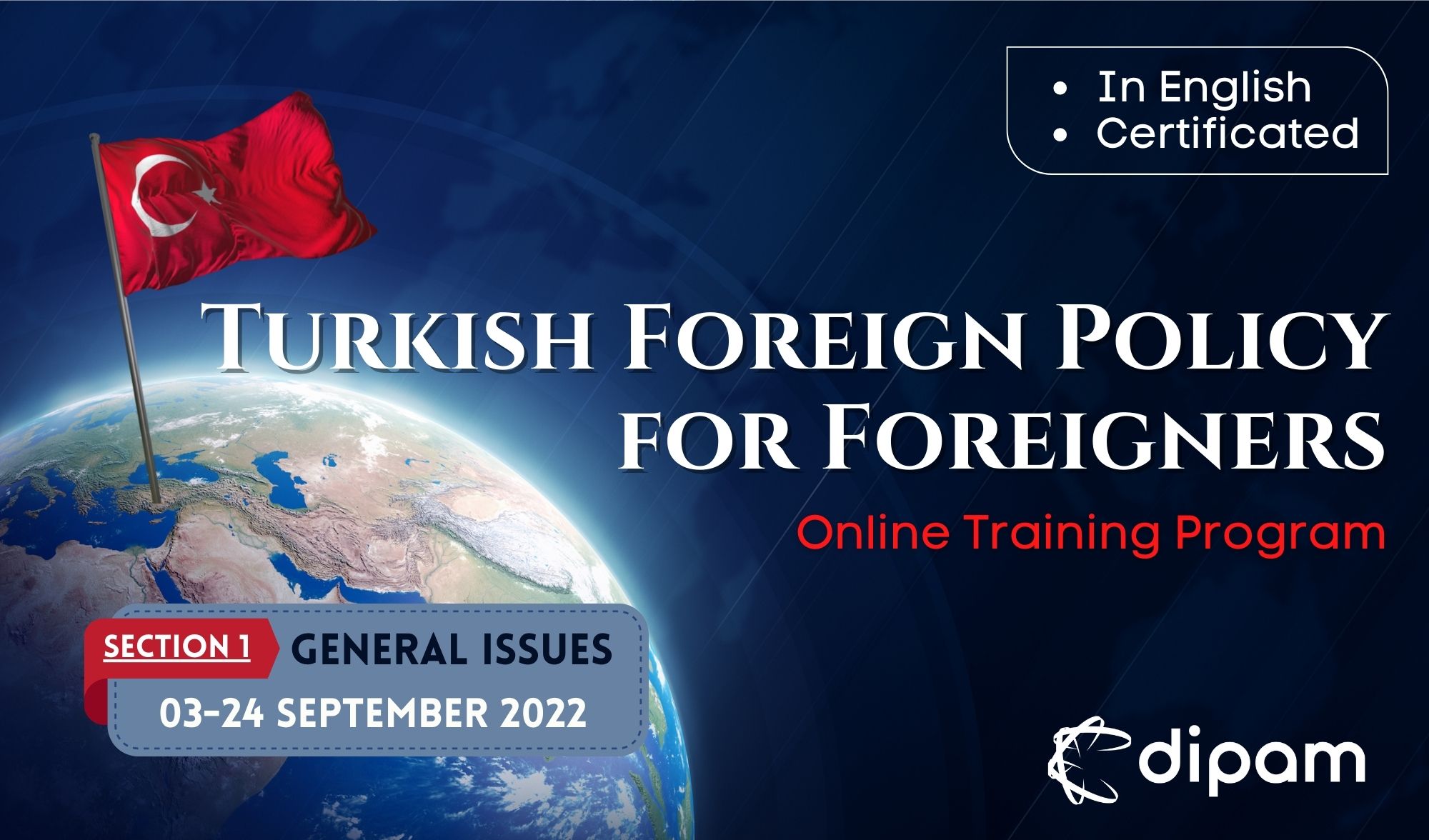 Turkish Foreign Policy for Foreigners Online Training Program – Section 1: General Issues
Section 1 (September 2022)
General Issues
It is designed as a section where general issues in Turkish foreign policy will be discussed. The trainings in this section generally cover the basic level topics that will understand the foreign policy framework of the Turkish state and government.
In these courses, which are designed as an introduction to the topics that will be discussed in detail in the next chapters, they will also provide answers to questions about the topics.
Lessons:
Understanding Turkish Foreign Policy
Turkish Normalization Process with The Gulf and Other Middle Eastern Countries
Is Türkiye a Bridge or Destination?: International Migration Issue
The Latest Situation in Türkiye-EU Negotiations and Relations with Europe
Türkiye's Policies to Balance Russia
Türkiye's Defense Exports and Effects to Global Security
The Effect of The Fluctuation of Türkiye-US Relations on Bilateral and Regional Policies
Türkiye's Identity Politics: Effects on Relations with The Turkic and Islamic World
Political, Military and Economic Effects of Chinese Belt-Road Initiative in Türkiye
Türkiye's "Asia Anew Initiative" and Diplomatic Ideas, Actions and Foresights
Türkiye's Energy Strategy in Context of Eastern Mediterranean Conflict and EEZ Crises
Türkiye's Fight Against Domestic and International Terrorism
Implementation
The reading list and several resources on the topics will be shared with the participants. Each class consists of approximately 90 minutes, in which the theoretical lecture and the interactive method focused on the participants are used together.
All of the classes will be held online (Zoom app.) and those who attend at least 75% of the classes of a section (9 classes) will be entitled to receive a "Certificate of Attendance".
Registration
The registration fee for each section (12 classes totally) is 75 USD. Payments can be made by credit or debit cards on the Online Payment page. The screen shot of the payment page should be sent to academy@dipam.org .
3 scholarship participants among the applicants benefiting from the YTB Türkiye Scholarships Program will be selected for each section. The selection will be made according to the education level and GPA. For the scholarship application, you must send the document stating that you are a part of "YTB Türkiye Scholarships Program" and the current transcript to academy@dipam.org .

Speakers
Assoc. Prof. Dr. Helin SARI ERTEM

Istanbul Medeniyet University

Helin Sarı Ertem completed her undergraduate education in 1998 at Marmara University, Faculty of Political Sciences, Department of Political Science and International Relations. Completed in the Department. Helin Sarı Ertem is an associate professor at Istanbul Medeniyet University, Faculty of Political Sciences, Department of International Relations.

Assoc. Prof. Esra ALBAYRAKOĞLU

DİPAM, Bahcesehir University

Assoc. Dr. Esra Pakin Albayrakoğlu is the Founder Member of DİPAM. She completed her BA program at Bilkent University, Department of American Culture and Literature and received her MA and PHD degrees from the International Relations Department of the same university. He is a full-time professor at Bahçeşehir University and a visiting professor at the National Defense University. Her expertise is on security and defense issues regarding Turkey and the Gulf. Her recent publications include the article "Turkey in Africa: From Aid to Arms" in the book "Turkey in Transition: Politics, Society, and Foreign Policy" which is compiled by Ebru Canan Sokullu and the article "Turkish Parliamentary Debates on the American War in Vietnam (1964-1971)" in the book Turkish Foreign Policy (Palgrave Macmillan, 2017). She is able to follow literature in English, French and German, and can use Russian at the basic proficiency level.

Dr. Çağlar KURÇ

Abdullah Gul University

Dr. Kurç is an Assistant Professor of Political Science at the Department of Political Science and International Relations, Abdullah Gül University. He worked as an adjunct lecturer at Bilkent, Başkent and Çankaya universities between 2017 and 2021. He was a Post-Doctoral Fellow at the Center for Foreign Policy and Peace Research, Ihsan Dogramaci Peace Foundation between 2018-2019. During 2012-2013, Dr. Kurç was a Fulbright Fellow at the MIT Security Studies Program. Between 2015 and 2017, he was a Visiting Post-Doctoral Scholar at the Arnold A. Saltzman Institute of War and Peace Studies at Columbia University in the City of New York. I hold an M.A. in War Studies from King's College London and a Ph.D. in International Relations from Middle East Technical University, Ankara.

Dr. Çağlar Kurç's current research on the arms industries investigates the causes that underlie states' decisions to embark upon defense industrialization and its implications on the global arms market. He is mainly interested in how the transformation of global arms production practices and the emerging new technologies affect states' defense industrialization and arms procurement. Recently, he started to look into the failures in military innovation and adaptation, with a focus on Turkey.

Prof. Dr. Ahmet Kasım HAN

Istanbul Aydin University

Prof. Dr. Ahmet Kasım Han received an undergraduate, graduate, doctorate, and post-doctoral degrees in economics, international relations, strategy, finance, and negotiation strategies at Istanbul, Boğaziçi, Koç, and Harvard Universities. He is a lecturer at Altınbaş University Faculty of Economics, Administrative and Social Sciences, Department of International Relations in Istanbul.

Prof. Dr. Çiğdem NAS

Yıldız Technical University

Çiğdem Nas is a professor of international relations and the Secretary-General of the Economic Development Foundation. She is a graduate of the Political Science Department of Bosphorous University and received her Masters degree on European social policy at the London School of Economics and Political Science. She completed her PhD on Politics and International Relations of the EU at the Marmara University EU Institute and worked at the same Institute as a researcher and assistant professor between 1994 and 2007. She is a lecturer at the Yildiz Technical University since 2007 and has been working since that date also at the Economic Development Foundation which is an NGO dedicated to Turkey's EU integration. Her research interests cover the European Union, European integration, European politics and Turkey and EU relations.

Prof. Dr. Erhan BÜYÜKAKINCI

Galatasaray University

After completing his high school education at St-Benoit French High School and his undergraduate studies at Istanbul University, Faculty of Economics, Department of International Relations, Erhan Büyükakıncı worked as a faculty member at Paris II University, Department of International Relations.

Prof. Dr. Kutay KARACA

Istanbul Aydin University

Ragıp Kutay Karaca, who graduated from the Air Force Academy in 1991, worked in various training units of the Turkish Armed Forces between 1991 and 2013. In 2000, he completed his second undergraduate education at Anadolu University, Department of Public Administration. Karaca graduated from Gebze Institute of Technology, SBE, Department of Strategy Science in 2003. In 2007, he received his doctorate from Gazi University, Institute of Social Sciences, Department of the Republic of Turkey with his thesis titled "Relations between the Republic of Turkey and the People's Republic of China after the Cold War".

Karaca, who worked as a lecturer at the Strategic Research Institute of the National Defense University between 2010-2012, received the title of associate professor in the field of International Relations and Political History in 2012. Between 2013 and 2017, he worked as an associate professor at Istanbul Gelişim University, Department of Political Science and International Relations and assumed the position of Director of the Institute of Social Sciences. From 2017-2018, he worked as the Head of the Department and Deputy Dean of the Faculty at the Department of International Relations at Nişantaşı University. In 2018, he received the title of Professor in Political History. Since the 2018-2019 academic year, he has been working as a lecturer at Istanbul Aydın University, Department of Political Science and International Relations, and the Director of the Graduate School of Education.

Prof. Dr. Sedat AYBAR

Bahcesehir University

Graduated from Dokuz Eylül University International Economics Department, Prof. Dr. Sedat Aybar received his master's and doctoral degrees from London University SOAS.

Aybar, who was an Assistant Professor and Associate Professor at Kadir Has University, is currently the Head of the Department of Economics and Finance, Faculty of Economics and Administrative Sciences, Istanbul Aydın University, Africa Application and Research Center.

He is also the Director of the Chinese Studies Application and Research Center.

In 1996, Aybar served as a consultant for the Overseas Development Organization (ODI) in the 'Investigation of the Financial Investment Decisions of Institutional Investors in Sub-Saharan Africa' project.

Aybar, who is a researcher in the project of the preparation of training programs and audio-vision programs for 1200 expert economists working at the IMF, took part in the project of preparing a training program and application guide on Open Market Operations financed by the United Nations for Ethiopian Central Bank employees. In 2005, he consulted the Central Bank of Moldova on financial reform.

Prof. Dr. Ulaş SUNATA

Bahcesehir University

After completing her BA in Statistics and her MA in Sociology at Middle East Technical University, she received her PhD in Sociology. Due to her interest in migration studies, she received an invitation from Germany's Institute for Migration Studies and Intercultural Studies (IMIS) to work on her doctoral thesis. He won DAAD and Hans-Böckler Foundation scholarships and completed his doctorate in sociology at Osnabrück University in 2010. He has been a full-time lecturer at the Department of Sociology at Bahçeşehir University for more than five years. Sunata, who has been working on migration and diaspora studies for more than 15 years, especially in the space of Turkey-Germany, has many academic articles published in the fields of migration, globalization, diaspora, urbanization and gender, as well as two books published in Germany. She carried out a comprehensive project titled Diasporas in Turkey. In recent years, she has focused on the Circassian diaspora and Syrian refugees. He successfully completed the TÜBİTAK supported project titled "Diasporas in Turkey: The Example of the Peoples of the North-West Caucasus". She has been conducting fieldwork in different camps and cities regarding refugees since 2013. Evaluating the ever-increasing importance of migration and the city, Sunata undertook the founding of Bahçeşehir University Migration and Urban Studies Research and Application Center (BAUMUS) in order to strengthen interdisciplinarity and teamwork.

Prof.Dr. Mesut Hakkı CAŞIN

DİPAM Advisory Board Member

Member of the Law Faculty of Yeditepe University in Istanbul
Member of the Turkish Presidential Security and Foreign Policy Board
In addition, he teaches in international law and international relations disciplines at some universities, especially National Defense University.
He continued his education with American Constitutional Law at Texas San Antonio College and completed his (PhD in 1994) on "International Security Strategies and Disarmament" at Istanbul University Faculty of Political Sciences.

Prof.Dr. Uğur ÖZGÖKER

Istanbul Arel University