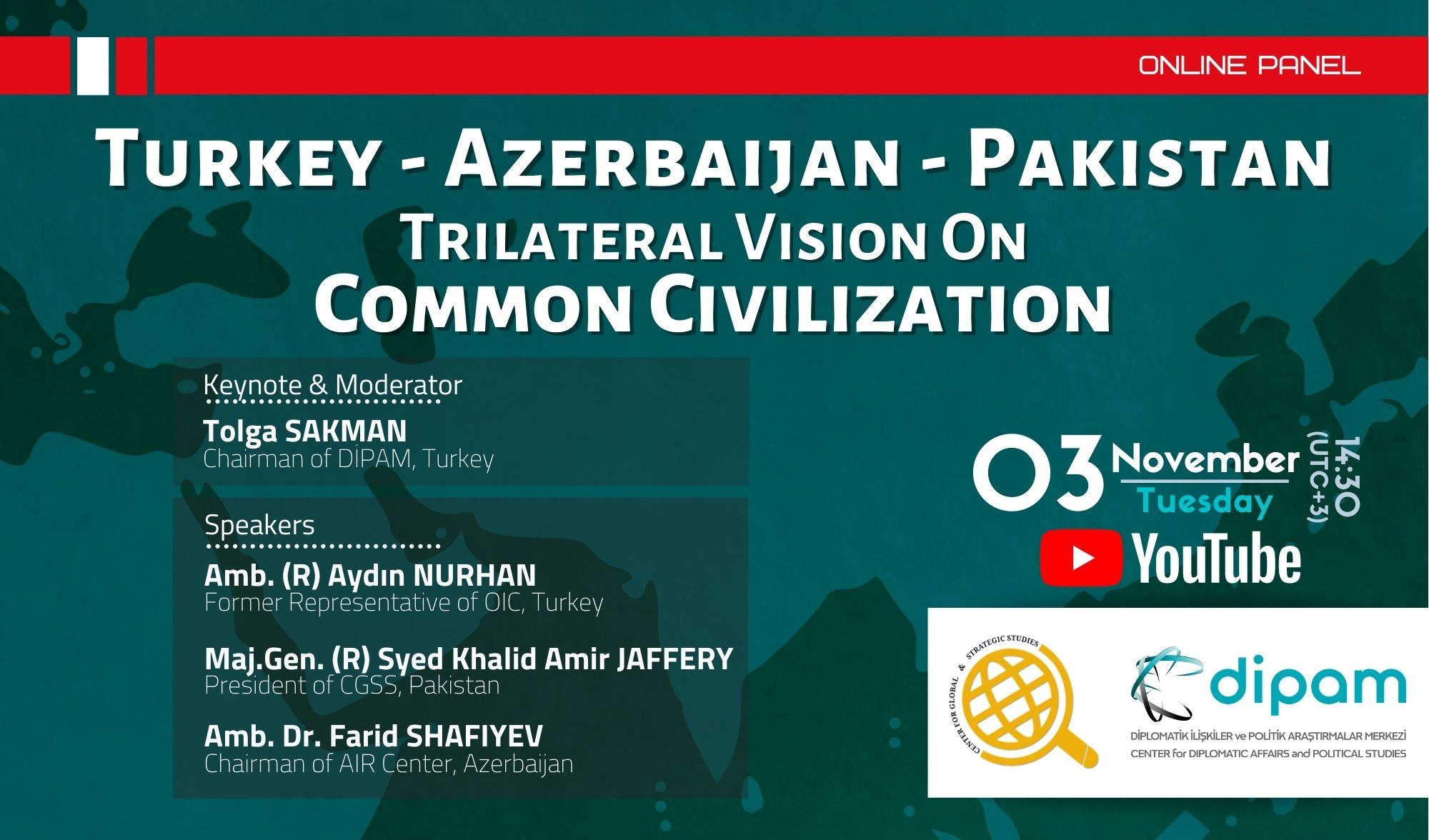 "Turkey – Azerbaijan – Pakistan Trilateral Vision on Common Civilization" Online Panel
In recent years, the world is facing with some global, regional and extensive problems and threats, such as conflicts, pandemics and migrations. These issues are threatening not only the region but also the whole world with their global effects. In such situation, the world have witnessed that the global system and international organizations couldn't  reach the capacity in managing such crises.
The World, nowadays, is going in a different concept, where we all see that the interdependencies and economical ties of countries are not enough to build up an institutional relation and provide stability alone. The unjust world system brings about illegal and terrorist movements in where people could not take a part in the global wealth sharing. On the other hand, hunger, unending conflicts, failed states are surrounding the region and making problems much harder to manage. In such environment, where the global system almost started to create only problems, regional powers and initiatives became more important than ever now.
More than historical and cultural ties, Turkey, Pakistan and Azerbaijan share and fed by the same civilization construction, which includes not only Asian, but also African and European values. This joint civilization construct has the motivation and moral value capacity to bring these three countries together and to open an alternative way where the so-called universal values have already started to degenerate. In the recent issues, like Syria, The Eastern Mediterranean or in Karabakh, the region and the world have seen that one-sided world view of the global powers and the global system is acceptable no more by the regional powers. It seems as it is important now to make this stance sustained and extensive as well. Therefore, this stance of Turkey, Pakistan and Azerbaijan; which we call now as "three countries, one nation"  shall be studied carefully by relevants in order to lift effectiveness and expand.
In this context, discussing the new strategies of the three countries "Turkey-Azerbaijan-Pakistan Trilateral Vision: Common Civilization" Online Panel is being hosted by DİPAM and Center for Global & Strategic Studies (CGSS). The panel to be implemented with the key speech and moderation of Chairman of DİPAM Tolga SAKMAN; President of CGSS Maj. (R) Syed Khalid Amir JAFFERY, Chairman of Center of Analysis of International Relations (AIR Center) Ambassador Dr. Farid SHAFİYEV and OIC Former Representative Ambassador (R) Aydın NURHAN attends as speakers.
Topics to be discussed:
Awakening The Common Civilization : The Degenerated System and New Alternatives
The Place of Turkey, Pakistan and Azerbaijan in the Global System
Common Problems and Probable Common Solutions
Recent Issues: A Chance to Institutionalize the Relations of the Three Countries?
Speakers
Amb. (R) Aydın NURHAN

Former Representative of OIC

Ambassador Nurhan was born in Turkey in 1949, and he is a graduate of the Law School of Ankara University.

In his diplomatic career, he served as Ambassador to Accra, also accredited to Togo and Benin, previously Consul General in Azerbaijan, Austria and Australia. He was the Director General of Science and Technology at the Organization of Islamic Cooperation in Jeddah, and also served in Saudi Arabia, Holland, Germany and the United States in his junior years.

In his last posting at the Headquarters, he was the acting Chairman of the Center for Strategic Studies of the Ministry of Foreign Affairs of Turkey. Earlier, he was among the diplomatic core establishing Turkish International Cooperation Agency TICA.

Nominated by the MFA of Turkey for the post of Permanent Representative of the Organization of Islamic Cooperation to Afghanistan, Ambassador Nurhan retired from the Foreign Office and served in Kabul from 2013 to 2017.

Apart from his diplomatic career, Mr. Nurhan was a media columnist, radio programmer and speaker, and university lecturer with an honorary doctorate. His main field of interest is globalisation.

Amb. Dr. Farid SHAFİYEV

Chairman of AIR Center

Farid Shafiyev was educated at Baku State University where he studied history and law. Amidst his professional career, he went on to Harvard University Kennedy School of Government where he obtained a Master Degree in Public Administration. Further, Dr. Shafiyev acquired a PhD in History from Carleton University in Ottawa.

Farid Shafiyev served in Armed Forces in 1987-1989. His professional career began at the Azerbaijani National Academy of Sciences in the Institute Ethnography and Archeology in 1994.

In 1996 Farid Shafiyev joined the Foreign Service. Within the Azerbaijani Foreign Ministry in Baku, he worked in the Political-Military Issues Division and in the United Nations Affairs Division.

His assignments include postings to the Permanent Mission of Azerbaijan to the United Nations in New York in 1998-2001 and the Embassy of Azerbaijan in Canada in 2005-2009.

In 2009 Farid Shafiyev was appointed Ambassador of Azerbaijan to Canada where he served until July 2014. From July 2014 to February 2019 Dr. Shafiyev was Ambassador of Azerbaijan to the Czech Republic.

On 19 February 2019 he was appointed the Chairman of the Center of Analysis of International Relations.

Dr. Tolga SAKMAN

Chairman of DİPAM

Tolga SAKMAN, who graduated from Kocaeli University, Department of Political Science and Public Administration in 2010, started the International Relations Master Program of the War Academies Command (newly National Defense University) Strategic Research Institute (SAREN) in the same year and he graduated at 2013 with his thesis about "Analysis of Turkish Diaspora's Participation Process to European Political System: The Cases of Germany, the Netherlands, Belgium". He is currently continuing his doctorate studies at Istanbul University, Department of Political Science and International Relations with supervising of Prof.Dr. Haluk ALKAN and the thesis on "Security Management in the Presidential System".

He started his work as the Assistant Specialist at the Turkish-Asian Center for Strategic Research (TASAM) in 2012, and later continued as a Director at the National Defense and Security Institute, which was established within the institution until July 2018. SAKMAN, who started his career in 2016 at Nişantaşı University as the Rectorate Coordinator and instructor in the Department of Political Science and Public Administration, continued his duties until May 2018. He has prepared about 20 paper works and 8 books/book chapters especially on security and European politics and coordinate nearly 20 projects at home and abroad.

SAKMAN is also the Chairman of DİPAM.

Maj.Gen. (R) Syed Khalid Amir JAFFERY

President of CGSS

Major General Syed Khalid Amir Jaffery, HI(M), (Retd) is the President of the Center for Global and Strategic Studies, Islamabad (CGSS). Major General Syed Khalid Amir Jaffery, HI(M), (Retd) is a retired armed forces officer who during his military career and after retirement remained at various significant appointments at national and international level. Being in Pakistan Army he held various instructional, staff and command assignments including Military Intelligence Directorate, General Headquarters and Inter-Services Intelligence Headquarters which gave him a rich expertise in the field of intelligence and leadership.

He contributes his influential expertise to regional connectivity in public forums around the globe; engaged in different activities, seminars, conferences in the region. Major General Syed Khalid Amir Jaffery, HI(M), (Retd) is recognized as confident communicator and an outstanding mentor who enjoys supporting others, demonstrating a lead-by-example approach. Retired from Military as Major General in year 2010. He is a frequent participant/guest speaker at different Seminars/Studies/Round Table Conferences and Interactive Session from the stage of CGSS and other Think Tanks/Institutions in Pakistan and abroad. He represented CGSS and Pakistan at various international Forum Meetings in different countries including China, Uzbekistan, Tajikistan, and Sri Lanka. He has created dozens of unique keynotes based on audience expectations. A wonderfully eloquent and engaging speaker, he is always remembered long after the conference by audience members for his insightful insights.