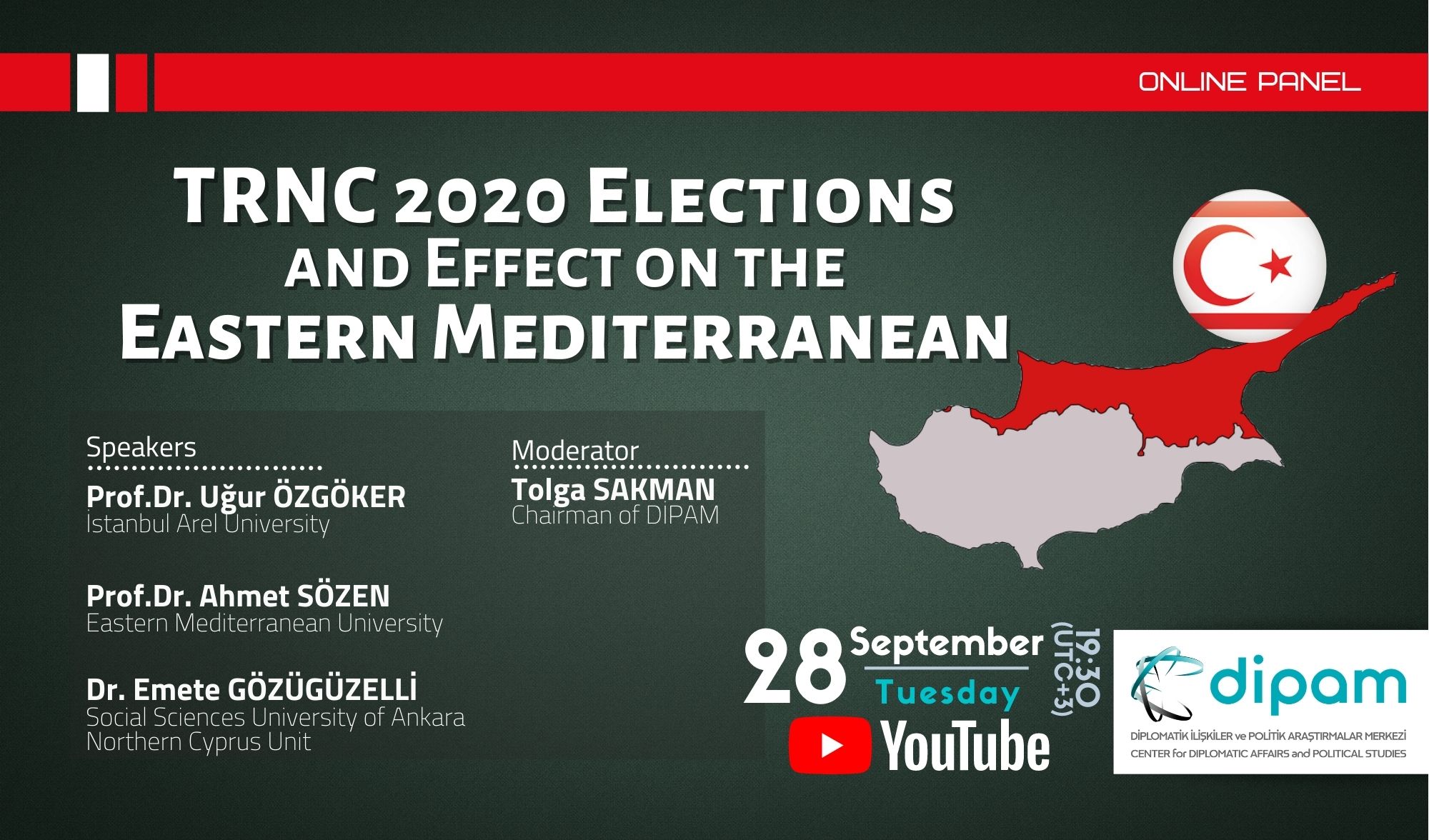 "TRNC 2020 Elections and Effect on the Eastern Mediterranean" Online Panel
One of the main factors on the basis of the underlying tensions in the area of ​​maritime jurisdiction dispute between Greece and Turkey in the Eastern Mediterranean is controversial state policy and the status of Cyprus. Rights in the maritime area claimed by international agreements made by the GCA has revealed a situation in which Turkey and the TRNC rejected. The desire of the GASC to transfer the energy from the region to Europe like EastMed, its participation in the new alliances in the region, and finally the lifting of the embargo imposed by the USA on the GASC are seen as developments that shake the confidence in the island and the region. The existence, sovereignty and defense of the TRNC takes place in a multilateral debate in the Eastern Mediterranean.
11 candidates are competing for the TRNC Presidential elections to be held on October 11, 2020. The elections with the highest number of candidates since its establishment show the strategic importance of the result. The new President, who will have to deal with many domestic and foreign political agendas, and his practices will be followed in a multilateral way after the election. On the agenda there will be many issues like status of negotiations with the Greek Cypriot Administration, the embargo on the TRNC and effects of economic pressures to the Turkish Cypriot people, adaptation to Turkey and Turkey's foreign policy, relations with third parties, such as the US, Britain, France, energy exploration authorization in the East Mediterranean and mutual situation with the countries of the region…
The TRNC administration can shape the future of the island and the Eastern Mediterranean debate even in its short term policies. For this reason, the importance and effects of the TRNC 2020 Presidential elections will be discussed in the online panel under the moderation of Chairman of DİPAM Tolga SAKMAN, Istanbul Arel University Faculty Member Prof.Dr. Uğur ÖZGÖKER, Head of the Department of Political Science and International Relations in the Eastern Mediterranean University Prof.Dr. Ahmet SÖZEN and Ankara Social Sciences University TRNC Academic Unit Faculty Member Dr. Emete GÖZÜGÜZELLİ on 28 September 2020. The language of the event will be Turkish and there will be no translation.
TRNC election period and candidates
TRNC's internal policy problems
Overview and guidance to the TRNC-GASC negotiations
Maritime authority certificate of activity policy
Overview of regional alliances
Relations with Turkey
International representation and dialogue
Policy development capacity for a solution
Speakers
Prof.Dr. Uğur ÖZGÖKER

Istanbul Arel University