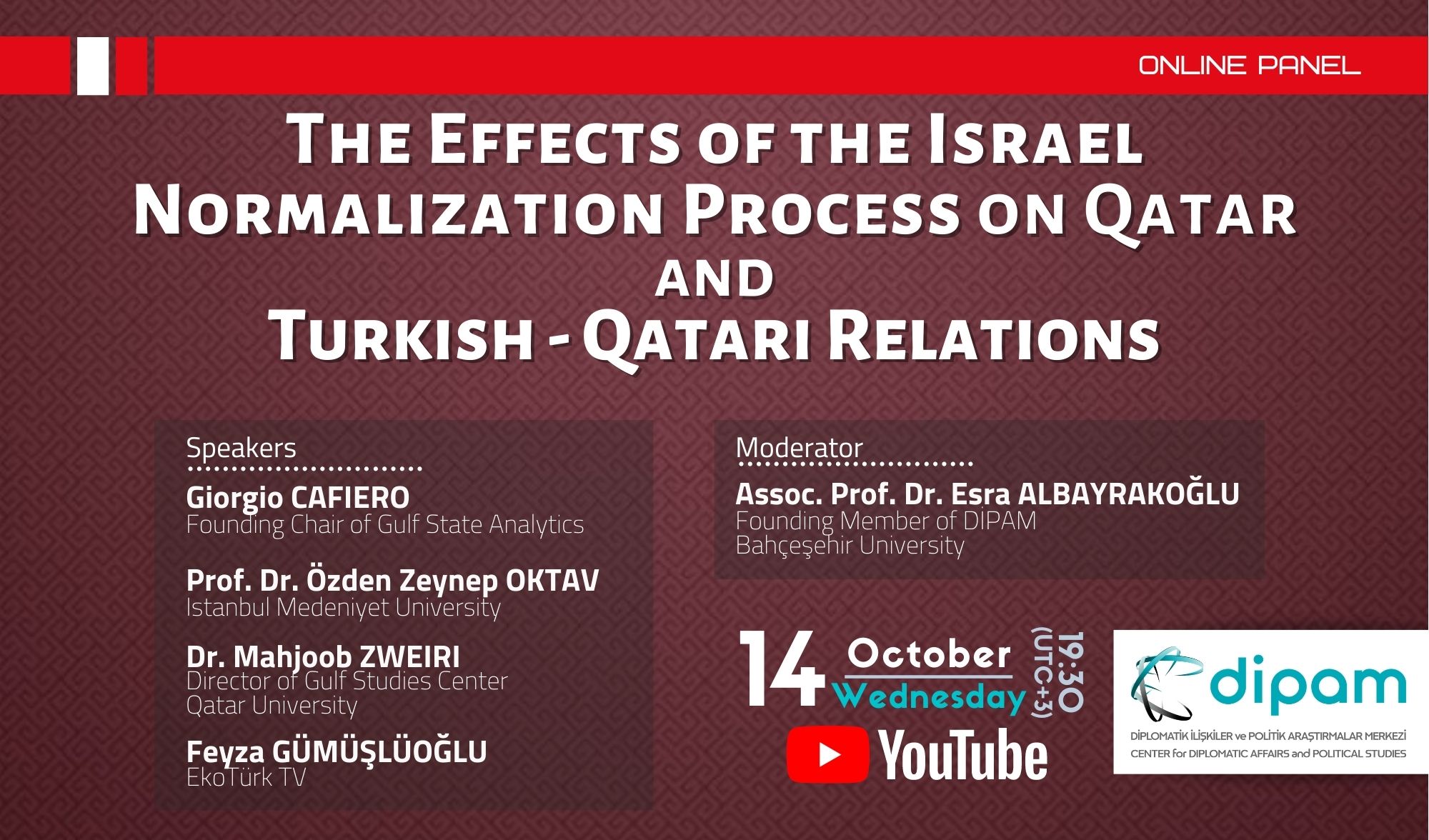 "The Effects of Israel Normalization Process on Qatar and Turkish-Qatari Relations" Online Panel
Following in the steps of Egypt (1979) and Jordan (1994), the United Arab Emirates (UAE) and Bahrain have recently signed US-sponsored deals to normalize their relations with Israel towards a broader Arab-Israeli peace. Qatar and Turkey vociferously criticize this move on the grounds that it betrays the Palestinian cause, despite the fact that both countries have been enjoying extensive relations with Israel for so long. They argue that the Arab-Israeli dispute would continue unabated in the absence of a Palestine state with a capital in East Jerusalem and Israeli withdrawal to the lines of June 1967.
Ironically speaking, Qatar has been at odds with its Gulf peers for openly improving its relations with Israel as early as 1991. However, this was part of an intricate balance of policy to conduct relations with opposing actors and establish itself as a regional power broker. Qatari foreign policy is built on flexibility and non-alignment, getting along well with both the USA and Iran or Tel Aviv and Hamas.
Qatar might feel pressure from its Gulf partners as well as Washington to be part of the normalization process. The issue also obstructs Qatar's charm offensive in Africa, since poor states like Chad and Niger are asked to take sides, as was the case during the Qatar Crisis of June 2017. The scheme has also led Palestinians pivot to Qatar and Turkey for support, signalling that Doha and Ankara would collaborate more with Tehran as another faithful advocate of Palestine.
In the light of this overview, our online panel will discuss these subjects below:
1. Overview of the latest round of Arab-Israeli normalization
2. Historical comparison of Israel's relations with Qatar and Turkey
3. Overview of Turkish-Qatari relations
4. Qatar, Turkey and possibly Iran as a counter-bloc against normalization (also consider here Russian concern about the military balance against Iran)
5. Implications for Qatar and Turkey's relations with the broader Arab World & the USA
Speakers
Assoc. Prof. Esra ALBAYRAKOĞLU

DİPAM, Bahcesehir University

Assoc. Dr. Esra Pakin Albayrakoğlu is the Founder Member of DİPAM. She completed her BA program at Bilkent University, Department of American Culture and Literature and received her MA and PHD degrees from the International Relations Department of the same university. He is a full-time professor at Bahçeşehir University and a visiting professor at the National Defense University. Her expertise is on security and defense issues regarding Turkey and the Gulf. Her recent publications include the article "Turkey in Africa: From Aid to Arms" in the book "Turkey in Transition: Politics, Society, and Foreign Policy" which is compiled by Ebru Canan Sokullu and the article "Turkish Parliamentary Debates on the American War in Vietnam (1964-1971)" in the book Turkish Foreign Policy (Palgrave Macmillan, 2017). She is able to follow literature in English, French and German, and can use Russian at the basic proficiency level.

Dr. Mahjoob ZWEIRI

Director of the Gulf Studies Center / Qatar University

Dr. Mahjoob ZWEIRI is graduated from University of Jordan as BA and MA, then took his PhD from University of Tehran. He has academic articles and publications about International Relations, the Gulf , Iran and the Arab World. He also held various positions at the University of Durham.

Dr. ZWEIRI is now the Director of the Gulf Studies Center at Qatar University.

Feyza GÜMÜŞLÜOĞLU

Journalist-Writer

Feyza Gümüşlüoğlu graduated from Istanbul University Faculty of Economics in 2009. In 2011, she started journalism with Anadolu Agency Doha correspondent. She published his first book, Being an Opposition in Syria, in 2013. She gave weekly interviews in Qatar's The Peninsula newspaper. She worked as a research assistant at the Middle East Institute in Washington DC. Her articles in Turkish and English were published in various newspapers, magazines and think tanks. She completed her master's degree in Marmara University, International Political Economy.

Giorgio CAFIERO

Gulf State Analytics

Mr. Cafiero is a regular contributor to the Middle East Institute, Al Monitor, LobeLog, Inside Arabia, and New Arab. Based in Washington, DC, Mr. Cafiero is also an adjunct fellow at the American Security Project and an affiliate at the Mena Center. Additionally, he is an analyst at London-based advisory Rosa & Roubini Associates. Mr. Cafiero frequently appears on Al Jazeera, TRT World, BBC Persian, and other networks as a commentator. He has taken part in dozens of closed-door meetings with high-ranking government officials, ambassadors, and other diplomats in Bahrain, Kuwait, Iran, Iraq, Oman, Qatar, Turkey, and the United Arab Emirates (UAE). Throughout his career, Mr. Cafiero has spoken about Persian Gulf-related issues at conferences and delivered lectures on the region in Egypt, Slovenia, and the United States. From 2014-2015, Mr. Cafiero was an analyst at Kroll, an investigative due diligence consultancy. He received an M.A. in International Relations from the University of San Diego.

Mr. Cafiero is Founding Chairman of Gulf State Analytics

Prof.Dr. Özden Zeynep OKTAV

Istanbul Medeniyet University

Özden Zeynep Oktav works as the head of the Department of International Relations at Istanbul Medeniyet University. Oktav's works include the following books: Turkey in the 21st Century Quest for a New Foreign Policy (2011), Limits of Relations with the West: Turkey Syria and Iran (2008), The Changing Dynamics of the Arab Gulf and Saudi Arabia- US-Iran Relations (2011), Turkey in the 2000's: Opportunities, Risks and Crises (2015), GCC-Turkey Relations: Dawn of a New Era (2015), Violent Non-State Actors and the Syrian Civil War: ISIS and YPG Cases (2018).

OKTAV has published many articles on Turkey and Middle East relations. Oktav also participate in Cambridge and St. Andrews universities as visiting researcher.