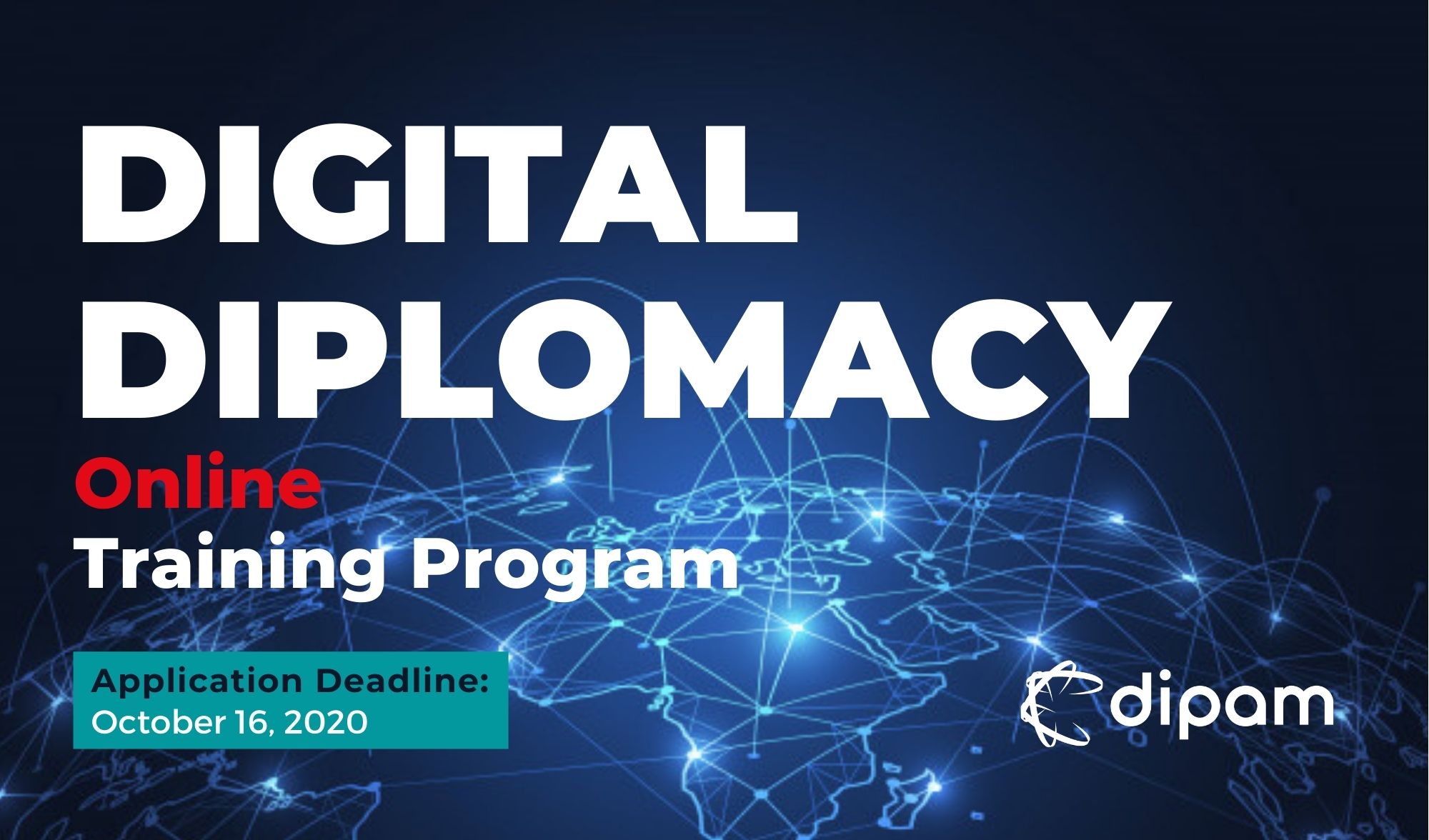 The Digital Diplomacy Online Training Program
Internet and new information technologies have also deeply affected diplomacy. New technologies have become useful tools for diplomatic actions, have begun to set the agenda of the international community, and have redefined the international roles of the public and individuals. Digital Diplomacy, which many diplomatic missions have started to deal with, in order to evaluate the active use and effectiveness of digital channels brought by the new era in foreign policy channels, has also brought its own opportunities and risks.
With the Digital Diplomacy Training Program, thanks to the multi-disciplinary course structure, the possibilities and risks of the new period and the ways to evaluate the steps to be taken for them will be explained. Especially for young diplomats and diplomat candidates, it is important for many people working on diplomacy from different fields such as international relations, political science and political communication to understand, apply and develop the channels brought by this new era.
The Digital Diplomacy Training Program will increase the knowledge level of the participants about the main areas of Digital Diplomacy and teach them by discussing the use of tools that will provide access to rich digital resources, the interaction of technological developments with the diplomatic agenda, international cooperation and competition areas that new technologies will provide or reshape.
Application
Courses will be held over the ZOOM application, and the link of the course will be sent to those who are accepted via their e-mail address before each course. Participants are required to use a microphone and camera in the lessons. The lessons are planned for 75 minutes and interactively.
The quota is limited to 20 people. Among the candidates who have completed the Application Forum completely, the DİPAM management will evaluate the participants.
Those who attend at least 10 of the 12 planned courses will be eligible to receive an e-certificate. Live or video broadcasts of the lessons will not be made on any other channel.
For whom
For anyone involved in diplomacy and is curious about the new era of diplomatic processes. It especially appeals to international relations graduate students and young diplomats and professional candidates.
What to Learn
Evaluating the digitalizing world and the new environment brought about by digitalization,
New security areas will be learned and the risk of insecure connection and use and protection from this risk, defining the link between cyber security and diplomatic work,
Determining and applying an effective digital diplomacy strategy by learning digital diplomacy and application channels,
Points to be considered in the use of social media, which is the basic and intensive channel of digital diplomacy, interpretation and social transfer process evaluation,
nderstanding and using digital democracy as a process of participation in politics that uses digital diplomacy by determining foreign policy goals,
The capacity to learn about the evaluation of artificial intelligence and to experience the possibilities in the light of technological developments that lead to the determination of a new vision in the next generation diplomacy channels.
Speakers
Assoc. Prof. Dr. Hakan MEHMETÇİK

Marmara University

Assoc. Dr. Hakan Mehmetcik completed his master's degree in Economics and Eurasian Studies at Uppsala and Dalarna universities, and his doctorate in Political Science and International Relations from Yıldız Technical University. He is currently working as a lecturer at Marmara University, Faculty of Political Sciences, Department of International Relations, and works in areas such as nuclear deterrence, regionalism and international political economy.

Can TÜRE

Journalist (turk-internet.com)

Dr. Aysel ÇETİNKAYA

Kocaeli University

In 2009, she graduated from Marmara University Communication Faculty Public Relations and Publicity Department. In 2011, she graduated from Marmara University, Institute of Social Sciences, Department of Public Relations. She completed her doctorate program, which he started in the Department of Journalism at Istanbul University Institute of Social Sciences in 2012, with her thesis "Online Journalism and Advertising Relationship in the Framework of Today's Media Economy" and received the title of Doctor in 2016. Between 2007 and 2013, she worked as a media relations specialist and corporate communication specialist in various public relations agencies and private companies. Between 2013-2017, she worked as a Research Assistant at Kocaeli University, Faculty of Communication, Department of Advertising. Since September 2017, she is working as a lecturer at Kocaeli University. She is the author of the book "From Content Production to Advertising Online Journalism" and is one of the two editors of "New Trends in Journalism Theory and Practice in the Digital Age" and "Communication Practices in the Network Society". Her academic interests include media economy, online journalism, digital marketing, and social media.

Dr. Erdem ERKUL

Microsoft Turkey Director

ERKUL, in 1999, Turkey's first web portal and the media in which Turkport Electronic Publishing and Communications Inc. Then, Kent Guide began his career as a reporter.Erdem ERKUL, who started working as an academician in the Department of Political Science and Public Administration at Hacettepe University in 2003, established the e-government and information portal www.digitaldevlet.net in 2005 and the international e-government portal www.digital in February 2008. -government.net web portal in Turkey, has been awarded a prize in the field of e-government in Europe and America.
He studied at Harvard University as a doctoral scholarship student, at the National Center For Digital Government which continues to work under the directorship of Jane Fountain, in 2008-2009. His article titled "Web 2.0 in the Process of e-participation: the Case of Organizing for America and the Obama Administration" was found successful and published by the center.In 2009. He continued his academic studies on Public Policy, Entrepreneurship and e-Government at the University of Massachusetts.

Erkul participated in the Economic Development for Innovation Program at Harvard University's John F. Kennedy School of Public Administration in June 2013. Prof. During the program chaired by Calestous Juma, he worked on Public Policies, Innovation, Entrepreneurship.

His took his PhD from Ankara University Political Sciences Faculty of Political Science and Public Administration, Department of Management Sciences.

Dr. Seçkin Barış GÜLMEZ

İzmir Kâtip Çelebi University

S. Barış Gülmez has been working at İzmir Katip Çelebi University International Relations Department since 2017. He worked as a postdoctoral researcher at Koç University and part-time faculty at Warwick University. Gülmez, who completed her undergraduate and graduate studies at the Department of International Relations of the Middle East Technical University, received her doctorate from the University of London Royal Holloway College in 2014.
His research interests are mainly in teaching diplomacy, foreign policy and international relations.

Dr. Tolga SAKMAN

Chairman of DİPAM

Tolga SAKMAN, who graduated from Kocaeli University, Department of Political Science and Public Administration in 2010, started the International Relations Master Program of the War Academies Command (newly National Defense University) Strategic Research Institute (SAREN) in the same year and he graduated at 2013 with his thesis about "Analysis of Turkish Diaspora's Participation Process to European Political System: The Cases of Germany, the Netherlands, Belgium". He is currently continuing his doctorate studies at Istanbul University, Department of Political Science and International Relations with supervising of Prof.Dr. Haluk ALKAN and the thesis on "Security Management in the Presidential System".

He started his work as the Assistant Specialist at the Turkish-Asian Center for Strategic Research (TASAM) in 2012, and later continued as a Director at the National Defense and Security Institute, which was established within the institution until July 2018. SAKMAN, who started his career in 2016 at Nişantaşı University as the Rectorate Coordinator and instructor in the Department of Political Science and Public Administration, continued his duties until May 2018. He has prepared about 20 paper works and 8 books/book chapters especially on security and European politics and coordinate nearly 20 projects at home and abroad.

SAKMAN is also the Chairman of DİPAM.

Gökhan Yavuz ÖZDEMİR

BlackBox Security

Yavuz Gökhan Özdemir; He started his career in this field by receiving the Penetration Testing Specialist certificate by TSE in 2014. By participating in the Cyber Struggle Training Program in 2016, he adopted a multidisciplinary cyber security approach. Throughout his business life, he has done penetration tests in many areas such as web application, network, wireless network in various institutions and carried out cyber attack analysis within the scope of Cyber Security Operation Center studies in the institutions he works with. He has also actively participated in many Cyber Security trainings and conferences held throughout the country as an instructor and speaker.
Currently, he is actively working for the Red Team as a Senior Cyber Security Engineer at Platin Bilişim.

Gökhan YÜCEL

Advisor to the Minister of National Education

He graduated from Marmara University Faculty of Communication. He completed his master's degree at the University of Essex, Department of Political Science. He studied comparative politics and public policy at the Department of Political Science and International Relations at Oxford University. In 2012, he attended the Public Leadership Program at Harvard University John F. Kennedy School of Government with full scholarship and successfully completed it. He gave lectures on Middle East policy, strategy and security at Oxford University between 2003-2007. He worked as an analyst at Oxford Analytica and Global Water Intelligence.

Between 2009-2011, he worked as a consultant at the Ministry of Education. Between 2011-2015, he worked as a part-time lecturer at Hasan Kalyoncu, Bahçeşehir, Okan and Aydın Universities. He still teaches Communication Skills for Engineers at Yıldız Technical University Mechatronics Engineering Department.

Gökhan Yücel focuses his current work on artificial intelligence, global education policies, the fourth industrial revolution, strategic communication, political campaigns, future technology and employment trends, digital diplomacy and branding.

He is the president of the Digital Research Association based in Istanbul.

He is a member of the Global Teacher Prize Academy and the Jury of Selection. He is the consultant of OECD's Education Project in 2030 as an "elite global education intellectual". He advises the United Nations and the UN Secretary General on social media and digital issues.

Kürşat Oğuzhan AKINCI

BlackBox Security

Kürşat Oğuzhan AKINCI, who has served many companies in penetration tests and security consultancy throughout his professional business life, has done penetration tests in many areas such as web application, mobile application, network & system, wireless network, and has also participated in cyber incident response, ddos tests and source code analysis projects. Akıncı, who served as a speaker and educator in many international and national conferences in the field of cyber security, received the "Scada and Critical Infrastructures Security" training at the NATO Joint Cyber Defense Center of Excellence. Each year, held in Estonia by NATO, has taken place within the Red Team to represent Turkey in the Locked Shield exercises known as cyber warfare exercise.

To add his name to the "Hall Of Fame" list as a result of the critical security weaknesses he found in NSA.gov (National Security Organization), which is affiliated to the US Department of Defense, DIA.mil (Defense Intelligence Organization) and NGA.gov (National Geography-Intelligence Agency). This success has been featured in national and international news channels.

Kürşat Oğuzhan AKINCI is currently working at Trendyol as a Senior Cyber Security Engineer. Akıncı, who previously worked as Cyber Security Operations Manager within the Ministry of Treasury and Finance, has provided consultancy to many institutions and organizations

Prof. Dr. Esra HATİPOĞLU

DİPAM

Prof.Dr. Esra Hatipoğlu graduated from Marmara University Faculty of Economics and Administrative Sciences, Political Science and International Relations (English) and Anadolu University Faculty of Economics, Department of Economics. She completed the Master's Degree in European Studies (English) at Marmara University European Community Institute; Russian and Post-Soviet Studies at London School of Economics (LSE) and also a PhD in European Studies (English) at Marmara University European Community Institute.

Professor Hatipoğlu served as Deputy Director of Marmara University Middle East Studies Institute between 2001-2006, and as founding chairman of the Field of International Political Economy in the Department of International Relations at Marmara University Faculty of Political Sciences between 2014-2015. Prof.Dr. Hatipoğlu has actively participated in many projects in different periods such as Turkey's Strategic Vision 2023 Project (under auspices of Turkish Presidency); Movement of Goods in the Area of ​​the European Union; EFTA; Turkey and CEFTA: Facilitation of Cooperation Potential; Turkish Think-Tank Capacity Building and Development Project; Teaching, Education and Research About European Studies in Turkey; Towards to the European Union; the EU Awareness Series and Human Rights Education Application in Turkey.

Hatipoğlu, who served as lecturer at Marmara University between 2001 and 2015, became Associate Professor of International Relations in 2007 and Professor in 2014. Professor Dr. Hatipoğlu has been a researcher in many international organizations, especially the European University Institute (Florence), LSE (London) and Central European University (Budapest). She has also been as a member and manager of many national and international associations and foundations and served as the Rector of Nişantaşı University between 2016-2019.

Prof. HATİPOĞLU also is the Head of Advisor Board of DİPAM.

Prof. Dr. Rasim Özgür DÖNMEZ

Abdullah Gül University

Prof. Rasim Özgür Dönmez – Abdullah Gül University Dean of Humanities and Social Sciences. He graduated from TED Ankara College High School and in 1997, he graduated from Bilkent University, Department of Political Science and Public Administration. He completed his doctorate in political science at the University of Exeter in 2003. Founder and editor of the international peer-reviewed journal Alternative Policy. His latest book is Nation-Building and Turkish Modernization: Islam, Islamism, and Nationalism in Turkey, published by Lexington Books.